Professor Ashlie Martini was looking for the chance to make a difference when she took a post at UC Merced.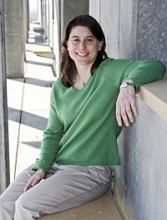 Martini, now a professor in the UC Merced School of Engineering, was most recently a faculty member at Purdue University, home to about 40,000 students. But she wanted to work at a university where she could be more involved and have more impact.
The University of California's 10th and newest campus was the perfect fit.
"It's a great opportunity for me to be a part of what UC Merced will become," said Martini, who is originally from San Diego. "I'm thrilled to be here."
Martini, who arrived in August, has since been settling into the still-growing campus of nearly 5,200 students. She's part of a curriculum committee and has recruited three graduate students to work on her research projects.
Like many UC Merced faculty members, Martini has a unique story to tell.
She's is a former world-class judo athlete who once had aspirations of competing in the Olympics. And her research focus is tribology — the study of the interaction between surfaces in motion and issues such as friction, lubrication and wear.
Martini said developing a better fundamental understanding of what surface materials and conditions are most efficient in specific situations will help engineers in many design processes. One of her current research projects looks at the effectiveness of graphite as a solid lubricant, and she's also working with an Air Force program involving high-speed vehicles and the friction created at extremely high temperatures.
While earning her bachelor's and Ph.D. degrees in mechanical engineering from Northwestern University, Martini was introduced to judo by a friend. She came to enjoy the physical and competitive aspects of the Japanese martial art, in which the goal is to throw down an opponent and hold them on the ground. Martini trained hard, winning medals in national championships.
But at the same time, Martini was a hard-working graduate student. Splitting her focus between athletics and academics was tough, and eventually she reached a turning point, deciding to focus on academics and retire from judo.
Even today, she draws on some of the lessons from her sport. Judo demands strength, confidence and assertiveness — qualities that also are useful in the academic world, Martini said.
In teaching the sport to children, Martini learned to break down moves into small parts. It's a skill she continues to use as she breaks down complex concepts in the college classroom.
Today, Martini has traded in judo for racquetball. She said she's happy with her choices and especially her move to UC Merced.
"The best part is interacting with the dedicated faculty and staff and working together to help UC Merced grow," she said.